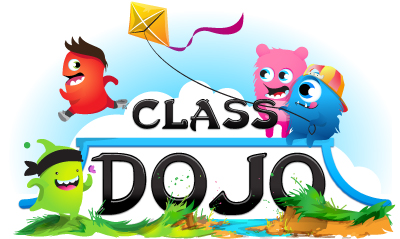 We would hereby like to inform you that school-wide we have gone to using a digital system of rewarding students. It is called "Class Dojo". The objective of this system is to make students aware of their behavior at school. (www.classdojo.com)
What is ClassDojo?
ClassDojo is a classroom tool that helps teachers save time, boost classroom engagement, and improve student behavior quickly and easily, with no painful data entry. ClassDojo also lets you communicate student progress with parents and students.  
Behavior management finally made positive
• Award feedback points for specific behaviors, learning habits, and accomplishments in class
• Everything is logged in real time and organized for you 
 
See full classroom engagement in minutes
• All of the avatars, behaviors, and other visuals are pre-loaded for you so you can hit the ground running
• Customization takes seconds. ClassDojo works with every teaching style
 
Get beautiful, hassle-free behavior reports
• Track behavior and class trends - with just one click! No more having to interrupt the flow of class
 Let students track their own progress
• Let students reflect on their in-class performance with their student accounts
• Build positive learning habits that last a lifetime
 
Send reports to parents with one click
• Break down the barriers between the classroom and home
• Get parents informed and on your side quickly and easily
It is visual in the classroom and all classes have introduced this system.  Each parent received a log on code to the site to view their child's progress, not that of other students.  This instrument can also be used to have conversation with your child's teacher and also discuss with your child how it went at school.
We hope that this gives you the opportunity to follow your child at school and make the step easier to communicate with teachers and visiting the school.
"We are called to serve one another"
It's that time of year again to enjoy all our free films, every Wednesday evening in the month of November at the University of St Martin campus. They have a great line up of the best educational films, workshop style films and documentaries containing the latest information on Dyslexia, ADHD/ADD, Autism & other learning and parenting challenges.
Parent Survey
Parents, you are reminded that the deadline to return the Parent Survey is Friday, November 28th, 2014.
We are asking your cooperation to return it by the due date.
PTA BBQ Postponed
The BBQ organized by the PTA that was scheduled for Saturday, November 29th, 2014 has been postponed until further notice!

School baseball tournament
The St. Maarten Little League will once more be holding the 2014 school baseball tournament which commenced on Saturday November 15th 2014. All games will be played at the Little League Stadium.
Our school will be participating in the Elementary schools division. For the first time we have a mixed team of boys and girls. The games will be on weekdays starting at 5:00pm.

Our first game will be on Thursday, November 20th, 2014 at 5:00pm. We will be facing the Sr. Marie Laurence School.
Come out and enjoy and support our team.
More Articles...